Oral Pathology & Microbiology
The Department is primarily involved in academics and research. First year students are taught Dental Anatomy & Histology where they learn how to carve the basic morphology of the teeth. Second and Third year students are taught Oral Pathology where they are taught how to diagnose various oral diseases and lesions.
Three post-graduate students join the department every year. The Post graduate students who have graduated from the department are currently working in various colleges across the country and abroad. The department regularly receives biopsy specimens from other departments in the college and from various private dentists around the college. These specimens are processed in a highly specialized laboratory.
Latest microscopes, both monocular binocular and are available for both regular work, research and post graduate thesis work. A Penta-head microscope which can be used by 5 people simultaneously is a star attraction of the department. The department has an exclusive IHC laboratory ushering the post graduate students towards extensive research work. With numerous special cases at hand, a detailed discussion is aided by these advanced modalities. Built-in grids in the microscope and special attachments aid in perfection and histopathological detailing.
+ Read More - Read Less
Professor & Head of the Department
Dr Nutan Tyagi, Professor and HOD in the department of Oral Pathology and Microbiology had completed her BDS in 2006 from Army college of Dental science, Secunderabad, AP and finished her MDS from ITS- CDSR, Muradnagar in year 2010. She has more than 11 yrs of UG and PG teaching experience, has guided many PG batches and also has numerous publications to her credit. She has been reviewer for national and international journals. Her keen interests lie in histopathology and IHC and she believes in constant upgradation and dissemination of knowledge.
+ Read More - Read Less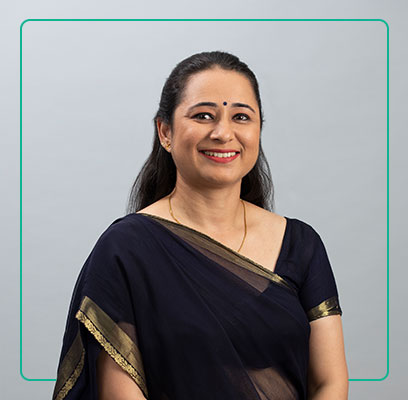 UG Programme
Oral Pathology and Microbiology is a branch of dentistry and pathology that deals with identification of diseases of oral and maxillofacial region. The essence of this science lies in unravelling the diseases at the macroscopic and microscopic levels.
Read More +
PG Programme
MDS program in Oral Pathology and Microbiology is a 3 year curriculum, during which the students are trained to excel in disease diagnosis and also to become accomplished academicians.
Read More +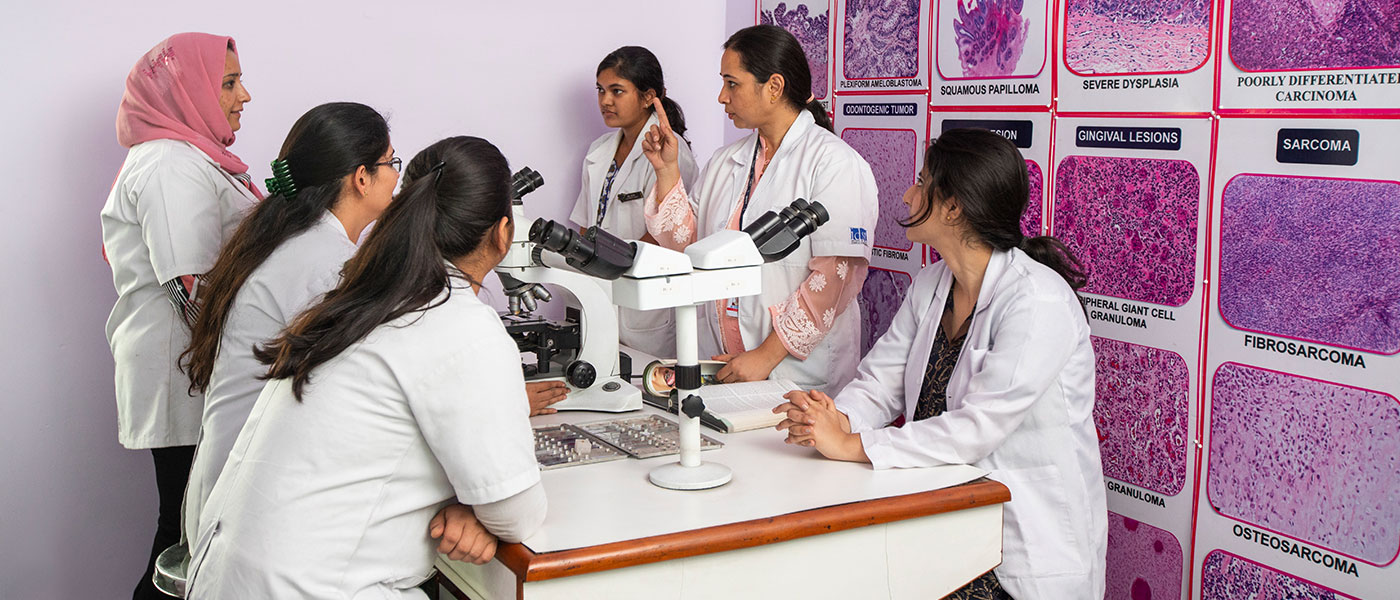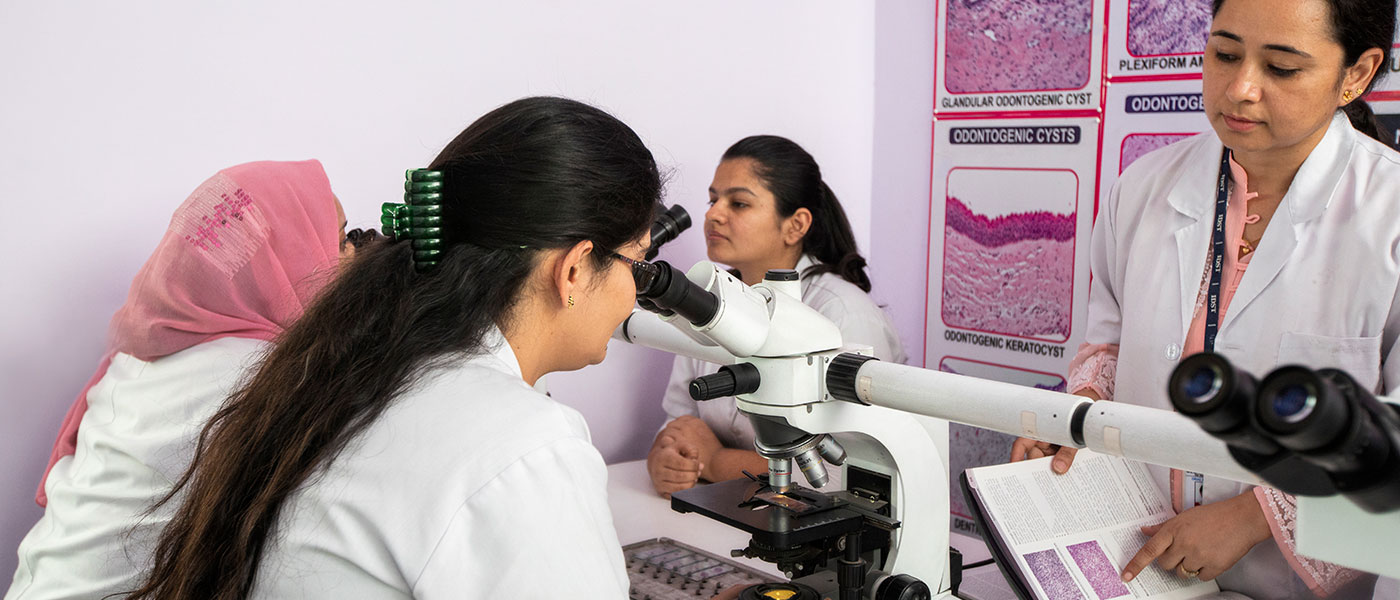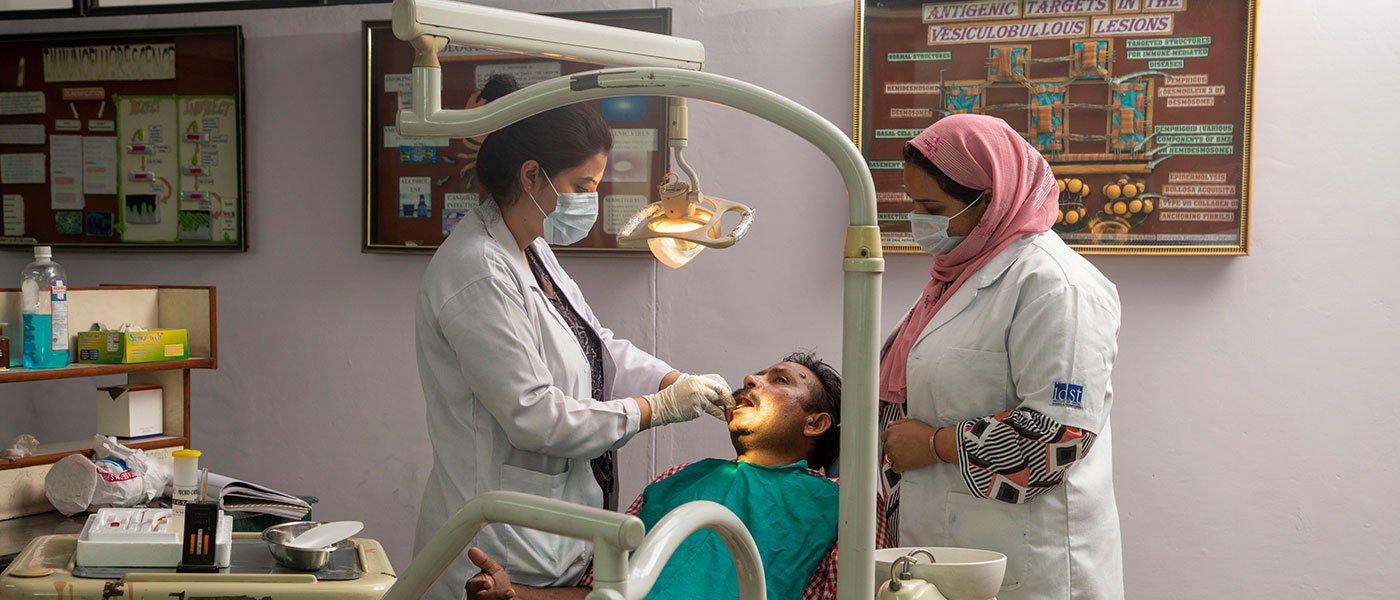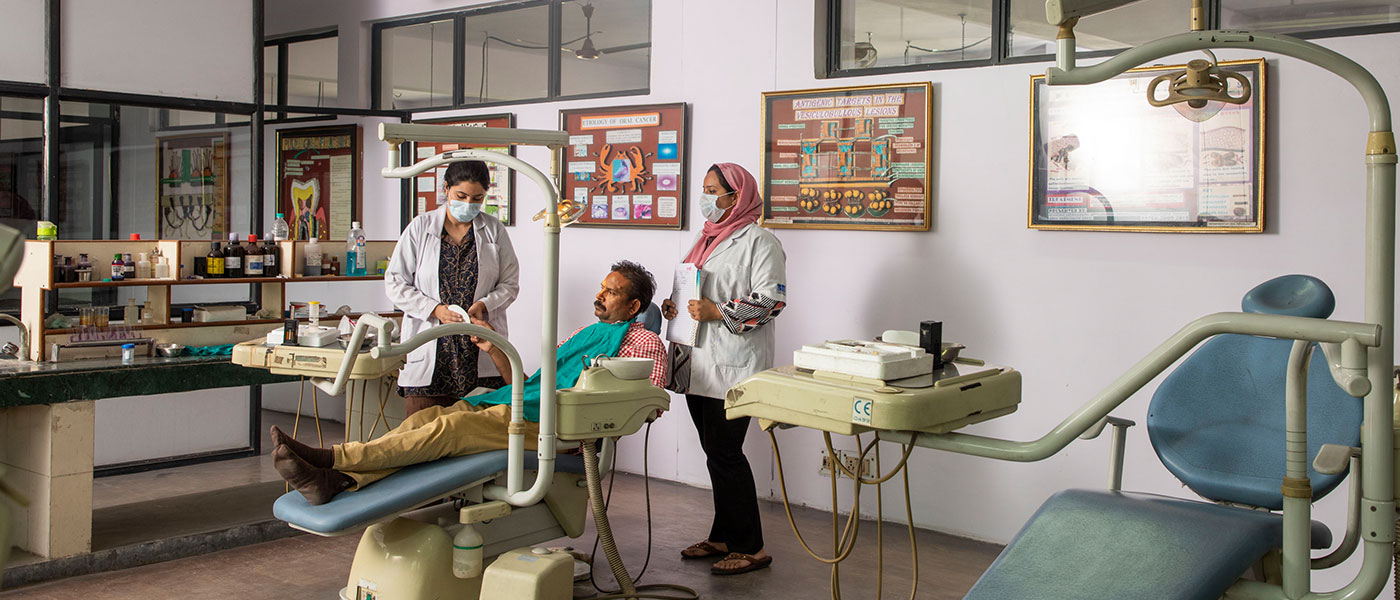 Faculty
Dr. NutanTyagi
Professor & Head
Dr. Geetpriya Kaur
Reader
Dr. Pulkit Gupta
Senior Lecturer
Dr. Nishant verma
Senior Lecturer
Dr. Farnaz Yasmin Shah
Senior Lecturer
Dr. Saakshi Singhal
Senior Lecturer
Dr. Monika Kumari
Senior Lecturer
Faculty Achievements
Dr. NutanTyagi hasChaired scientific session at XXVII National IAOMP Conference, Amritsar, 16th -18th Nov 2018
Dr. NutanTyagi hasChaired scientific session at Indian Dental Conference, August 2018 held at I.T.S Ghaziabad
Dr. NutanTyagi hasChaired scientific session during Indian Dental Conference 2016 held at I.T.S Ghaziabad on 14th march, 2016.
Read More +
Research Work
Role of Ki67 and Vegf as prognostic and diagnostic markers in different grades of Oscc an immunohisto chemical study.
An immunohistochemical analysis of expression of E cadherin and β catenin in various histopathological variants of oral squamous cell carcinoma-"A prognostic approach".
Assessing the efficacy of alpha SMA and Bcl2 as prognostic markers in varying histopathological grades of OSCC- An immunohistochemical Study.
Read More +
Department Publications
Sharma BS, Gupta V, Vij H, Sharma E, Tyagi N, Singh S. Cheiloscopy: A tool for Antemortem Identification. Indian J Dent Sci2017;9:176-80.
Gupta S, Gupta V, Tyagi N, Vij R, Vij H, Sharma E. Analysis of role of Angiogenesis in Epithelial Dysplasia: An Immunohistochemical study. JCDR 2017: 127-31.
Sharma E, Gupta V, Tyagi N, Gupta S, Bhagat S, Dadu M, Chibber N, Lakhnotra D. Dermatoglyphics: A hidden Evidence. Ind J of Stomatol 2017;8(1): 1-5.
Read More +